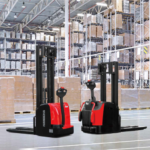 A Series 1.2-2t Pallet Stacker Truck Hi Range
Description
We use square lithium iron phosphate batteries and modules used in large quantities by commercial vehicles in mature economies.
The module uses an aluminum alloy frame which is sturdy, lightweight and with excellent heat dissipation.
Safe and effective: Charging effciency as high as 98%, thermal runaway temperature 600 ℃or above.
Adapted to low temperatures: Comes standard with an electrical heating feature , ensuring normal operation in low temperatures.
Quick charging: Can charge and operate at the same time, fully charged in 2hours.
Long-working: 4000 charging cycles, capacity retention greater than 80%.
Maintenance-free: Battery does not require manual maintenance.
Green and clean: Pollution-free, zero emissions.